Hubby playing with his band
Calypso (front) and Ryka
The girls love to swim on hot days
Calypso, March 2, 2012 (13mos.)
Ryka, March 2, 2012
Taste testing Profiteroles. Yum!
Hubby and sons, Jeremy (left) and Joshua. Josh sings with Flashback.
Calypso graduates Obedience School - 10/2011
Dogs that play hard, sleep hard. 10/2011
They can't get on the porch so Calypso sleeps on the top step and Ryka on the bottom - that is, until they fall asleep and roll off. 10/2011
Dogs at Play 10/2011
Calypso - 4 months - Look like her dad "Nic"
Calypso - 4 months - hard to believe - from 10 lbs. to 42 lbs.
What happens in the rain, stays in the rain!
Daughter Katie-Beth was in for Easter. She and Jeffery are checking out an alligator.
Had to bring it in too much but it was still cute. Sitting side by side.
I assure you that there are two dogs here. Calypso is a little Sumo wrestler.
Calypso thought she could just reach in and grab a crab...
...And sometimes they just sleep...
Calypso - 9 weeks - April 4, 2011
Jessica Plaisance (left) and Donna McBroom-Theriot listen to Rochelle Frazier talk about her book, "Sweeteas" Saturday during the Jubilee Jambalaya Writers Conference and Book Fair at the Terrebonne Parish Main Library in Houma. Saturday, March 26, 2011 (taken from The Houma Courier)
Calypso coming out from hiding under the rocker to antagonize Ryka
Calypso asleep on the swing
Calypso hiding under wagon picking at Ryka
Calypso trying to drink water with Ryka out of the rain barrel. Her tongue barely reaches.
Calypso in the flower bed. She thinks the Lirope makes a soft bed.
The girls got swimming pools. They love the water so long it's not a bath!
Cara came home and climbed into the chair with her Papa and promptly fell asleep. She is in her school uniform. March 15, 2011.
March 16, 2011
March 16, 2011
March 16, 2011
March 15, 2011
Playing Chase in the back yard - March 15, 2011
Girl's Play Date - March 15, 2011
Girl's Play Date - March 15, 2011
Girl's Play Date - March 15, 2011
Ryka being good. Calypso on the loose! 03/11/2011
Calypso hiding from me. 03/11/2011
Ryka's new diggs.
Ryka at the gate to my flower garden. March 2011
Ryka caught me off guard with this one. She found Jake and Sentry's graves. March 2011
Calypso and Jeffery - March 2011
I have almost this same shot of Sentry. This is Ryka at the front door. March 2011
Calypso chewing on her bone.
Calypso kept trying to swim in her water bowl. This is her swimming pool.
My husband, Jeffery
A dreary day on Bayou Lafourche, South Louisiana
taken from our wharf
A Happy Man = 3 fishing poles, bait, and a bucket of pecans to shell.
This is her new thing, She must be in the water to drink water.
Splish splash, I am not taking a bath!
There's my buddy!
Where's Ryka?
This is better than fingers any day.
Do I follow Mom walking or not?
The bone not mommy's fingers!
Here's my face.
Tuckered out.
Ryka at home on the porch. She blocks the door to prevent me from going inside.
Calypso playing with Ryka (in pen).
The little monkey teasing Ryka. She runs along the outside of the pen and Ryka runs inside.
Playing.
Calypso - 6 weeks
Ryka Von Nobleheim (Theriot)
Ryka and Calypso. Calypso loves Ryka and is playing through the bars with her.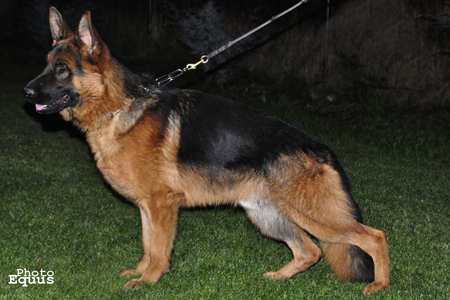 Calypso's sire: SG Copernicus Von Isabela, OFA Certified
Baby Calypso and mom,SG BOOGIE VON NEVADA HAUS, OFA CERTIFIED and 2 brothers, www.cagenkennels.com
Our little cottage on the bayou in spring
Sentry
- 7/2002 - 12/23/2010
Spring and the azaleas
My sugar cookies
Southern cooking, field peas and sweet cornbread
More sugar cookies
Sentry - 7/2002 - 12/23/2010
That is Sentry again, sleeping on the front porch
Organization at its finest
My short story is published
New York City, Central Park, 2010
Jude, Katie-Beth, Me, Jeffery - NYC
Frozen Hot Chocolate - Serendipity