Cass Wilkes, owner of the Gingerbread Haus bakery,
was
looking forward to her daughter Danielle's wedding—until Dani announced that she wants her father, Cass's ex, to walk her down the aisle. Seriously? Even worse, it appears that he, his trophy wife and their yappy little dog will be staying with Cass….
Her friend Charlene Albach arrives at their weekly chick-flick night in shock. She's just seen the ghost of Christmas past: her ex-husband, Richard, who left a year ago when he ran off with the hostess from her restaurant, Zelda's. Now the hostess is history and he wants to kiss and make up. Hide the mistletoe!
And bring out the hot buttered rum, because the holidays aren't easy for Ella O'Brien, either. Ella, newly divorced, is still sharing the house with her ex while they wait for the place to sell. The love is gone. Isn't it?
But watch as Christmas brings all kinds of surprises….
Paperback: 320 pages
Publisher: Harlequin MIRA; Original edition (October 23, 2012)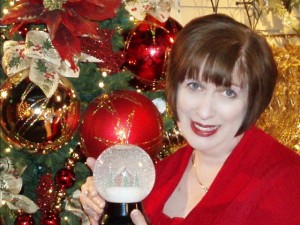 It took Sheila Roberts a while to decide what she wanted to be when she grew up. Before becoming a published writer she did many things, including playing in a band and owning a singing telegram company. But in the end, she wound up doing what she loved to do most as a child: writing. Sheila has been published under different names in both fiction and non-fiction and seen her books translated into several different languages. Her novels have been selected for book clubs and optioned for film. She lives on a small lake in the Pacific Northwest and has three children and one long-suffering husband. When she's not playing with girlfriends or on the tennis court Sheila can be found writing about those things dear to women's hearts:family, friends, and chocolate.
Her novels have appeared in Readers Digest Condensed Books and have been published in several languages. Her book Angel Lane, was an Amazon Top Ten Romance pick for 2009 and her holiday perennial, On Strike for Christmas was made into a movie for the Lifetime Movie Network. You can visit Sheila on Twitter and Facebook or at her website (http://www.sheilasplace.com).
What would a woman do if she had to share the holiday with her ex-husband?
I love Christmas. It's my favorite holiday. But I know that for many of us this time of year can be hectic and crazy.
It can especially get crazy when dealing with family. Although we all want that Norman Rockwell kind of holiday, sometimes family issues can make it more like a Mad Magazine holiday. Throw in dealing with exes and stepfamily and life can become downright stressful. I don't have an ex (the only way my poor husband is going to escape is if he dies), but I've seen how tricky this can be watching other people deal with the challenges of sharing kids. I've watched one young family make the rounds on Christmas, eating three dinners in a day. Now, while I love the idea of getting three slices of Red Velvet Cake in one day, I have to admit I think that might be too much even for me. Well, at least for my hips.
Thinking about how challenging it can be making peace and goodwill toward men a reality over the holidays when dealing with former spouses inspired me to write "Merry Ex-mas". I couldn't help asking myself, what would a woman do if she not only had to share the holiday with her ex husband but if she had to share her house as well? Hosting your ex and his new wife for the holidays? Yikes! Throw in a Christmas wedding and, well, there's enough chaos for anyone. So, that's how I came up with one of the story lines for the book.
I also heard about a divorced couple that was stuck sharing their house until it sold. How awkward. How hard. What would happen if I stuck a divorced couple in the same house for the holidays? And what if they were still really in love with each other? How fun!
Needless to say, in this book, my characters have a lot to work out, and I had a great time helping them do it.
Of course, it's easier to work out the problems of fictional characters than it is real life people. But in real life, I know it can be hard. So, if you're bracing yourself for holiday stress, here's my advice. Make sure you make time for lots of stress relief. Plan some silent nights where you can take a bubble bath, watch your favorite holiday movie or read a good book. We women get so busy taking care of everyone else at this time of year we sometimes forget about ourselves. You have my permission to give yourself a merry Christmas, too. I hope Santa brings you a whole sleigh full of chocolate!
The minute I read the title of the book, I knew it had to be a great book. Merry Ex-Mas? I wasn't disappointed. Having long been a fan of Ms. Roberts, I expected no less than a great story and she delivered it - on a Christmas Platter.
"Once in a while, if a woman is really lucky, the perfect day she envisioned turns out to be just that."
What I liked about the book? I loved the town's name – Icicle Falls. And, just as you'd expect, the places in the town follow suit, Gingerbread Haus Bakery, Zelda's, and Breakfast Haus (pancakes). Ms. Roberts paints a picturesque town that comes to life as you are transported to the town through her words. The cover of the book is also captivating.
"…ex-husband. That man, that self-centered, undeserving rat who'd tried to lure the kids away this weekend with a trip to Vail, who…No, no. No thoughts about…"
The author creates family drama that leaves you laughing and crying. Imagine a close-knit town, with a close circle of women friends, either unmarried or divorced, all with exes. Imagine again, the drama that ensues when they all show up on the prospective doorsteps of their women, hoping to
woo
them back. All over town, doors can be heard slamming, words being yelled, drinks flying, dishes breaking. Just thinking back to the scenes makes me laugh.
"…hard with her ex-husband strutting around town, pretending to be the world's best dad. It was going to be hard to greet his bimbo trophy wife with good cheer. And she didn't even want to think about dealing with her ex-mother- and sister-in-law."
And, in the midst of all the chaos, a daughter announces her engagement and plans a wedding, complete with her mom's ex and his bimbo wife being guests at her house. Throw in some dog poop, and ice falling off roofs on to guests and the excitement begins. And, once it begins, you just never know where it will end.
"…kitchen when a cold gust of wind blew in the door. She looked up to see who the latecomer was and received a shock that made her heart jump and the tray slip from her hands, sending dishes and glasses to shatter on the floor. Oh, no. It couldn't be…"
What I didn't like about the book? Well, it ended (stomping feet here). I need more – as in another book.
"We brought vitamin C," Samantha said, handling over a holiday box of Sweet Dreams Chocolates. Chocolate, the other Vitamin C, and a girl's best friend. "This takes care of me. I don't know what the rest of you are having," Cash joked."
From a technical standpoint? The book boasts a wonderful winter wonderland of a town with great, well developed characters and
plot lines
The book had a great beginning and had plenty of excitement throughout to keep you guessing and turning the pages, before it wrapped up nicely – but leaving you wanting more.
"Food. It was the centerpiece of life. From dinners of state to family gatherings, sharing food was an essential part of human connection. And it was the spice of love. How could you not fall in love when you were gazing across the table at someone?"
Merry Ex-Mas is full of chaos, love, laughter, betrayal, and tears; and we all know that makes for a fantastic read!
If you found my review helpful, please consider voting "yes" on Amazon by clicking the link below. Thanks!!

http://www.amazon.com/review/RDM6Q7W41L6C4/ref=cm_cr_rdp_perm?ie=UTF8&ASIN=0778313921&linkCode=&nodeID=&tag=
Merry Ex-Mas is available at Amazon
Merry Ex-Mas Virtual Book Publicity Tour Schedule
As per FTC requirements: My Life. One Story at a Time. is an advertising affiliate with Amazon. A small fee is earned when purchases are made using the above link. A free book was obtained from the source mentioned above in order to provide an honest and fair review. The views, beliefs, and opinions expressed by guest post authors are their own and do not necessarily reflect the views, beliefs, or opinions of My Life. One Story at a Time. Guest Posts are offered so authors can share their writing with my audience for their enjoyment.