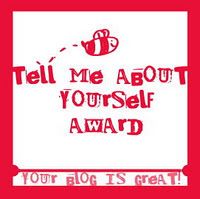 Yea! I'm so excited about this award! Thanks to Melanie at
http://christianbookshelfreviews.blogspot.com
So, in receiving this award, I was given two things to do. 1) admit seven random things about myself, and 2) nominate five other versatile bloggers for this award.
Please be kind and don't laugh as you read the seven random facts about me:
1. I love making up words to fit where there just aren't any appropriate words.
2. I hate really big bridges; especially the ones that go so high above your head as you are driving across it. I have been known to hyperventilate. I have nightmares about driving off bridges because a section is missing. I even carry around my Pieta book because it says I will not drown if I die with this book on my person (no, it does not say I won't drive off a bridge.)
3. I do not trust easily; actually, rarely ever. I have one true best friend and she didn't come along until I was 46 years old; but what a gem she is (well worth the wait.)
4. As some of us tend to do, (and the rest is a quote from Amanda (Manda) "
I lose myself in blogging. I think it may actually be a little unhealthy. I can mess around with my blog for hours and hours. Whether I'm writing posts, networking, changing the layout of my blog, looking for more books to read. I absolutely love blogging. Even if no one read my blog, I would still do it for me, because I love it."
5. I have a real issue with tailgaters! I have been known to slow to a slow crawl to back them off and then resume my speed. There was only one time this didn't work (and he was an ass.) Yep! All you big truck drivers, I am the lady in the suburban that brought you to a
complete halt on the highway so I could turn into my driveway – ya shouldn't have been following so close!
6. I am obsessed with my two dogs (German Shepherds) I am in love with them. If my husband would allow it, I would have them inside sitting at my feet in my office while I blog. That way, I could combine my two obsessions – my dogs, and my writing.
7. I love to bake. I am obsessed with cookbooks, especially the ones for chocolate (I have 60 chocolate cookbooks alone.) I also have a massive amount of cookie cutters.
This next part was the hardest. How do you pick just 5 bloggers out of all the awesome bloggers you know. Impossible, but I managed and they were great blogs too. I hope that each one will accept the award and pass it along.