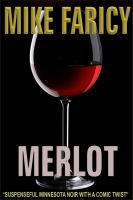 Tags
About the Book:
Merlot owns a bar with money problems. He borrowed funds from an unscrupulous source, germaphobic mobster Declan Osborne. Backed up by Osborne's enforcer, Merlot has been given one week to make things right. Wouldn't you know, this would be the time Merlot falls for gorgeous bank teller Cindy. Add in Otto O'Malley, the brains behind this year's State Fair taste treat, and his infatuation for Cindy. Season with a sprinkling of exotic dancer, Serpentina. Top off with the sinister Ditschler brothers; Mendel, Lucerne and Elvis and you've got the perfect recipe for another crazy Mike Faricy suspense thriller.

Hilariously entertaining and action packed, the twists and turns of this wonderful tale will have you enthralled from start to finish. Another delightful adventure of crazy people, doing incredibly strange things, in the pursuit of the almighty dollar.


Parental Rating:
Interview with Author:
Do you remember the first story you wrote? What was it like?
Yes I do remember. What was it like? It had moments of genius… I think. Actually it rambled on and on. I was so excited, win lose or draw I had something like 400 pages of award winning drama stacked up in front of me. No doubt, the next To Kill a Mockingbird. Well, not exactly. I think I probably did a perfunctory check for spelling errors. I mean, why bother, the tale would sell itself. Right?
I mailed out probably a hundred query letters, came home from the post office and set extra plates on the dinner table for the publishers who were bound to knock on my door. I think the first batch of rejections arrived about seventy-two hours later. I held on to them, as soon as I made the NY Times Best Seller List I'd send them all a Christmas card. The 'Christmas Card' list grew daily. I scammed a lunch with a local author, William Kent Krueger, he actually is on the best seller list. He told me every author has at least one manuscript they keep hidden under the bed. That was great advice, I placed mine under the bed and moved on. I gone on to write another and another, refining my style, my work habits, in between writing, I read everything I could get my hands on. I return from time to time to that first work, it's pared down to about 270 pages, but it's still under my bed.
Do you use paper, pen, typewriter, laptop. Is there a specific place you like to write?
I write on my laptop. I'm pretty disciplined, I write everyday. I have a long distance relationship with my wife. She lives in
Dublin
, I'm in
Minnesota
. So, if I'm in
Minnesota
, I have a home office with a desk. If I'm at our home in
Dublin
, I'm set up on the dining room table. By the way, I put the laptop away at about 4:30, start getting dinner ready for us. When my wife leaves for work in the morning, I'm tapping keys before she's at the top of the lane. I write eight to twelve pages per day. The following morning I begin by reading those pages on my laptop, doing a quick edit, getting into the flow, then write another eight to twelve pages. I don't work off an outline, I have a loose idea of where the story is going. But at the end of the day, I'm just as amazed as my readers to learn what's happened.
I mentioned I'm pretty disciplined. I don't answer the phone when I'm writing. I break maybe 30 minutes for lunch, no other breaks, no music, radio or TV. It's just me tapping keys. I get pretty involved. I'll be on a walk with my wife and she'll say something like "You're awfully quiet." When I explain I've got a guy tied to a chair and three lunatics are ready to push him out a window or shoot him, she just rolls her eyes. Who can blame her?
When I finish the first draft, I print it off, edit, re-edit. I maybe do that five or six times, eventually send the manuscript to my editor, get it back, re-edit two or three more times. I used to use a number of friends to review a manuscript, but the time factor became too long. I'd have a letter attached to the manuscript that read something like " I need this back in a week." That's quite a time commitment, God forbid people have a job, kids, a spouse or a life. I'd check back maybe two weeks later and hear, "Oh yeah, actually we're going to the lake next week, I'm going to read it then." If I'm lucky that's three plus weeks, round it up to a month. Multiply that by maybe twenty people. So now, I have a dedicated group of beta readers around the
US
and
Canada
. They give me honest, forthright review and input, in a very timely manner and that seems to works very well.
What is the best part of writing for you?
It's always a bit of a labor, but a real labor of love. I was a shy kid and I'm very comfortable in the background so a quiet day, just tapping keys is great. That said, I need the social interaction that my family and wife provide. Although, I read somewhere that social interaction is the enemy of all writers, which sort of makes sense. But, you have to come up occasionally and live life in the sane lane.
During the process things really begin to hum, you've a direction going, characters are developing, you have a handle on how they'll react to a situation. For me that's life on Easy Street.
Tell us something about your books.
I write crime fiction, theoretically with a sense of humor. My books are all stand alone. You can read them in any order you wish. Although my tales all have an element of the bizarre and quirky to them, they are based on real life situations I'm at least aware of, though not necessarily involved in, thank God. My characters are people, usually with a foot on both sides of the law, who find themselves in a situation due to their own bad personal decisions. But then, bad decisions make for interesting reading. If you want someone saving the world from terrorists or international banking conspiracies, I'm not the guy. I've been compared to Elmore Leonard and Carl Hiaasen, that's high praise for me. Of course I've never heard their take on the matter.
What is something most people wouldn't know about you?
I'm the dullest guy in town, but wait, everyone knows that. I guess maybe that I live in
Dublin
half the year. Not six months at a time, but about six months annually. I also play the bagpipes, I pipe with a local band here in
Saint Paul
, the Brian Boru Irish Pipe Band. We have a lot of fun, great bunch of friends. My persona is that I'm a ruff, tough guy, but I'm really a baby. I love kids, love the situations they get themselves in.
What are the top three things on your bucket list?
First is always talk or see my wife, she's good to me and good for me. Secondly, I'm always researching ideas for my next book, whether it's just a single line, some incident I want to incorporate or an entire storyline. Third, get started on the next book, now!
When you aren't writing, what are you doing?
I mentioned I play in a bagpipe band, we practice once a week, so theoretically I'm practicing, in a different zip code, daily. I'm very family oriented so I'm checking in with my wife, siblings, kids, my mom. I'm a voracious reader, when not writing, I read.
Where can we find you?
You can reach and/or friend me on Face Book, Mike Faricy, there's a few of us, I'm the guy in
St. Paul, Minnesota
.
Donna, Thanks for taking the time to interview me and helping me get out there in front of your readers. I'd love to hear from any or all with comments and feedback. Many thanks in advance for checking out my books, happy reading.
Book Quotes:
"…customers holding two and three business deposit bags stuffed to over flowing. There was one guy with a shopping bag full of cash, literally! A paper shopping bag, the kind with the handles, stuffed with cash."
"Bonnie, Caesar salads, six of them to the green room and mix a little bacon fat into the dressing before you put it on," he yelled, standing in the middle of the kitchen. The dinner hour was winding down and the kitchen mayhem had returned to a manageable level. "Hunh?" "Bacon fat, you heard me, mix it in with the dressing, but not too much, and keep it between us, okay?"
"Karen seemed like a nice woman, attractive enough but Merlot knew from bitter past experience that she had but one function and one function only. She was the third wheel. There to make sure Cindy didn't end up in bed with Merlot tonight. For some reason certain women felt they had to make sure their friends weren't tumbling in and out of be with Merlot and his ilk and so they always accompanied their girlfriends. Ready at the first sign of a loud laugh or slurred word to apply the brakes on an evening's fun."
"Actually, the telling of the event itself didn't take that long, but climbing naked out a second story bedroom window after throwing up two bottles of red wine on the married woman whose husband was charging up the stairs always led to more questions."
"Did you realize sir that you were discharging your weapon within city limits?" T.J. closed his eyes thinking those guys are across state lines, long gone by now and made a mental note to remove the 'Support Your Local Police' sign above the cash register."
"Today he chose a Twins jersey, Twins hat and pin stripe baseball pants he had cut off just below the knee. He pulled up white cotton knee high socks, slathered level 50 sun block across his knees for added protection. He laced up his jungle boots, pulled on his twins cap, white handkerchief pinned to the back, looked in the mirror and figured Party Girl would find him irresistible."
My Review:
First, there is Merlot. He is deep in debt to the mob and has a group of crazy friends. Merlot runs the bar and steak house that his dad left behind when he died. His mom just wants him to find a nice, respectable girl and settle down instead of making the national news. His friend mooned an entire stadium and it was being broadcast live across the nation. In the midst of Merlot's plot to rob a bank and save the business, he falls in love with Cindy, the bank teller.
Second, there are three insane brothers, the Ditschler brothers; Mendel, Lucerne and Elvis, who do not have a nickel to their name, have criminal records, and their only source of income is robbing liquor stores.
Third, you have the crazy, fried bacon on a stick looks like dog poop guy (Otto O'Malley) who has conversations in his head with the bank teller (Cindy) he fancies himself attracted. He's a slob who runs the fried bacon on a stick booths at the county fair, is about the size of Texas, and thinks he is this poor girl's savior, going so far as to shove a greasy plate of fried bacon on a stick through her bank teller window (need I say more.)
Then you have the "Mobster", Declan Osborne, who runs a 900 phone call service and the local strip joint where he offers a brunch complete with stripping. This guy is a nut case and a germ phobic. He refuses to touch anything not doused in Lysol disinfectant. He also travels with his own "nurse", stripper Serpentina.
What all of these people have in common is a need for money. The book is like watching a comedy movie, or maybe just simply – The Three Stodges (remember those?) The plotline switches back and forth between the characters and their shenanigans and while no one knows the other, they all live in the same small town. What makes it even more hilarious is the fact they are all planning to rob the same exact bank.
The book is very funny. I thought it was well written, and even though the plot kept switching back and forth between the characters, it was easy to follow. Most of the character's lives intertwined. It is a great read and I think anyone who enjoys comedy with a twist will love this book.
Mike has generously offered a copy of the book to one lucky commenter.
To enter, just follow my blog via GFC or Networkblogs and leave a
message with your email address.
Don't forget your email!
Tweeting is not required, but so appreciated! Thanks!
If you can't wait and have to read it now, you can purchase the book
Disclaimer / Disclosure: I received a complimentary copy of the book with no obligation for a positive review. No compensation - monetary or in kind - has been obtained for this post. Cover art and book description courtesy of the author, publisher, or PR firm.